The Twin Cities Zine Fest is always FREE to attend, wheelchair accessible, and open to the public! TCZF 2017 was held Saturday September 30th from 11 am-5 pm at the Minnesota Center for Book Arts (1011 Washington Ave S, Minneapolis MN).
Workshop schedule:
• 12:00 to 1:00 A Brief History of Comics: Guy Thomas presents a history of comics, from historical proto-sequential art to the modern day. Come learn about and discuss all things comic!
• 1:30 to 2:30 Doodle Jam!: Logan Kruidenier hosts a one-hour doodle jam! This workshop includes exercises that spotlight quick and easy processes to unblock your brain and create all kinds of art.
• 3:00 to 4:00 Mini Zine Storage Boxes: Carolyn Swiszcz teaches you how to make a slipcover box for your zines! Using found or recycled materials, you'll walk away with a cool way to display your zines.
• Throughout the day Monica Edwards Larson will be demonstrating letterpress printing on the Sister Black (Bike) Press, a mobile printing and publishing studio.
We also had an activity table with button making and mini-zine making, run by librarians from the Minneapolis Community and Technical College Library, the University of Minnesota Libraries, and Hennepin County Library.
More information about Twin Cities Zine Fest 2017…
A list of exhibitors and invited guests is available.
The Facebook event for TCZF 2017 is available here.
The night before the fest (Friday September 29th, 7-9 pm) we held our TCZF 2017 Kickoff Reading at the Minnesota Center for Book Arts, with a fabulous lineup of zinesters and artists (Facebook event).
Our TCZF 2017 artwork was created by Twin Cities artist and zinester Chan Chau! Find more of Chan's fabulous artwork at http://cargocollective.com/chanc.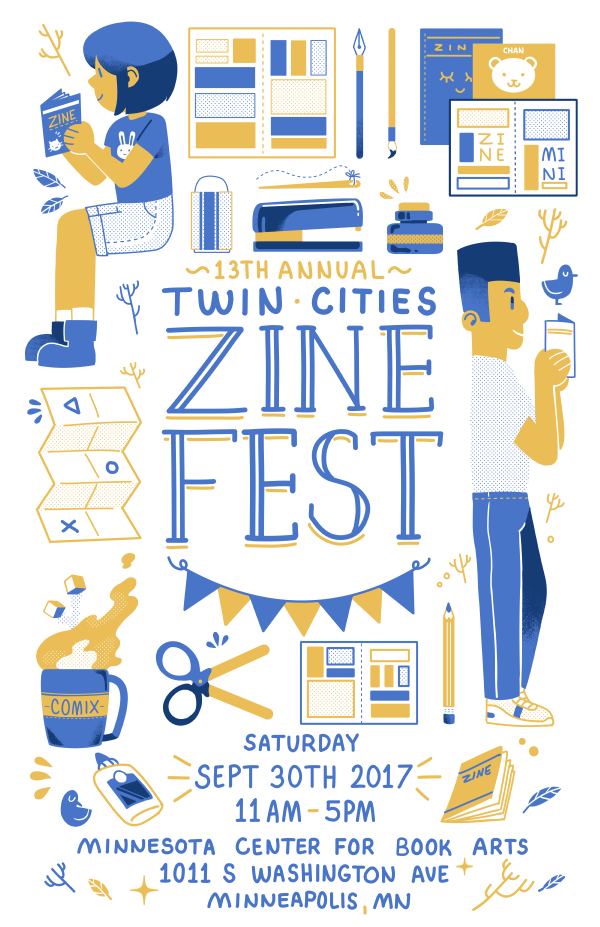 Printable copies of the 2017 artwork are available below.