The Twin Cities Zine Fest is always FREE to attend, wheelchair accessible, and open to the public! TCZF 2017 will take place Saturday September 30th from 11 am-5 pm at the Minnesota Center for Book Arts (1011 Washington Ave S, Minneapolis MN).
Workshop schedule:
• 12:00 to 1:00 A Brief History of Comics: Guy Thomas presents a history of comics, from historical proto-sequential art to the modern day. Come learn about and discuss all things comic!
• 1:30 to 2:30 Doodle Jam!: Logan Kruidenier hosts a one-hour doodle jam! This workshop includes exercises that spotlight quick and easy processes to unblock your brain and create all kinds of art.
• 3:00 to 4:00 Mini Zine Storage Boxes: Carolyn Swiszcz teaches you how to make a slipcover box for your zines! Using found or recycled materials, you'll walk away with a cool way to display your zines.
• Throughout the day Monica Edwards Larson will be demonstrating letterpress printing on the Sister Black (Bike) Press, a mobile printing and publishing studio.
Plus, we'll have an activity table with button making and mini-zine making, run by librarians from the Minneapolis Community and Technical College Library, the University of Minnesota Libraries, and Hennepin County Library.
More information about Twin Cities Zine Fest 2017…
A list of exhibitors and invited guests is now available.
Please RSVP at the Facebook event for TCZF 2017 and invite your friends. We appreciate your help in spreading the word!
Plan on joining us the night before the fest (Friday September 29th, 7-9 pm) for our TCZF 2017 Kickoff Reading! It'll be at the Minnesota Center for Book Arts and we've got a fabulous lineup of zinesters and artists for your listening pleasure. RSVP at our Facebook event—we'll see you there!
Our TCZF 2017 artwork was created by Twin Cities artist and zinester Chan Chau! Find more of Chan's fabulous artwork at http://cargocollective.com/chanc.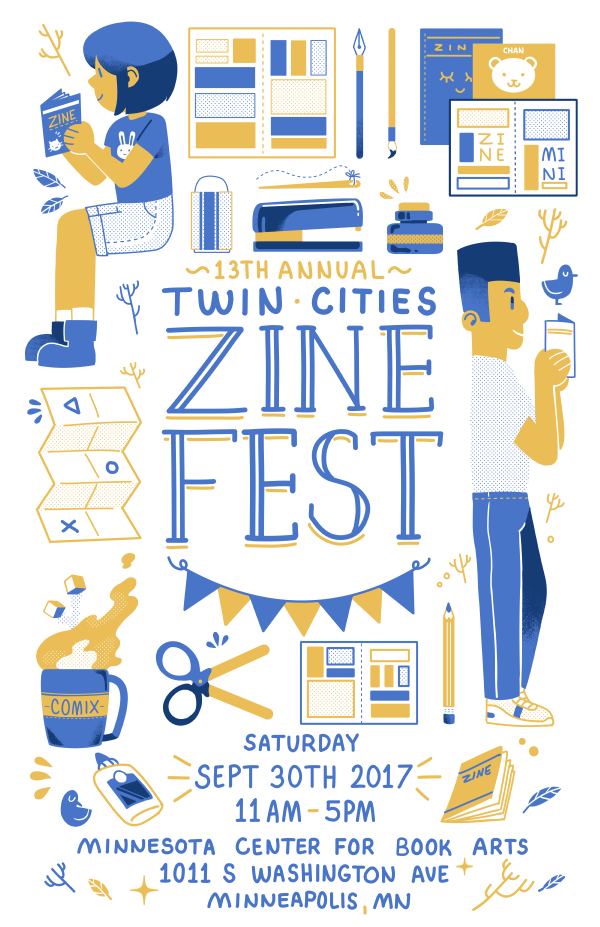 Spread the word! 
Please help us spread the word by using social media and/or printing some of our beautiful flyers. Printable copies of this year's artwork are available below.