The 12th annual Twin Cities Zine Fest was held Saturday September 24, 2016 at the Walker Community United Methodist Church (3104 16th Ave S in Minneapolis).
Check out the list of the exhibitors and community organizations who were at TCZF 2016!
Workshop schedule
During the day of the fest there was an activity table and these workshops:
noon-1 pm "Building Community with Zines in the Twin Cities": An informal discussion about creating meaningful connections with others in the zine community and beyond.

1:30-2:30 pm "Fancify Your Zine!": A skillshare where you can learn about how other zinesters make their zines visually interesting, whether with deluxe bindings or specialized printing or unique folding techniques. Bring your own work and share how you fancy up your own publications!

3-4 pm "The Zine-ification of Roleplaying Games":  Roleplaying games originated in Midwestern garages but grew into an industry of impenetrable accessories and expensive hardcovers. Today, zinesters are reclaiming the genre with online distribution, minimal production values, and varied genres. Come learn about roleplaying games, browse books, and even play a short game!
Program & exhibitor map
Click the image below for a pdf of the TCZF 2016 printed program.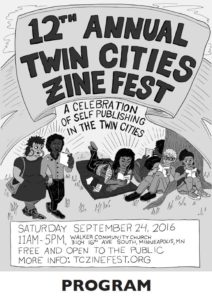 Spread the word!
The 2016 poster was done by TCZF organizer Fiona Avocado.